Switchboard plant "Prisma Electric" - high-tech enterprise, organized in accordance with the requirements that apply practice of modern electrical production.
In administrative and production building of "Prisma Electric», which located in Kharkiv, more than 2000 m2 are occupied by production and storage areas. Consolidation in one place of engineering and office building, manufacturing and warehouse space, significantly improve the efficiency of business processes, provide the ability to synchronize production and technological processes. Production process is divided into sections, allowing in stages to let out products with strict observance of the production technology and quality control at each stage, as well as to fulfill the requirements of safety regulations. Each section is equipped with machines, tools and auxiliary equipment that allow withstanding all electrical production standards of both Ukraine and Europe.
Locksmith section
On the site is working on placement and attachment components items developed according to the documentation of the cable and the input bus, punching technological apertures, etc.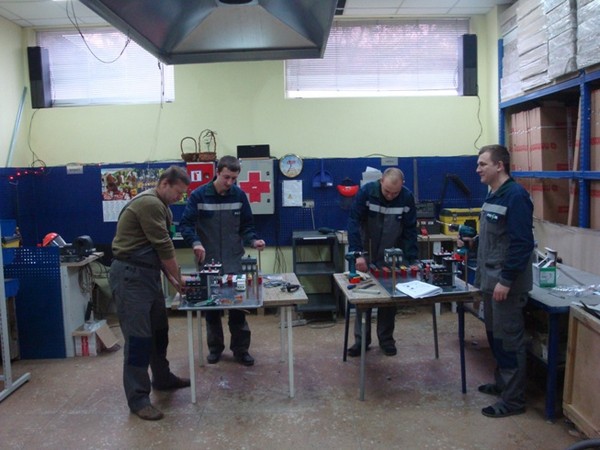 Busbars assembly section
Equipped with multi-function machine with CNC system for working with electrical bus manufactured in Poland. Allows processing bus bars of copper and aluminum, including flexible copper busbars, for the necessary parameters. Bus are handled exclusively by punching, bending and cutting. As part of the section - a warehouse of electrical bus. In the production of "Prisma Electric" is only used copper and aluminum electrical bus and flexible copper bus.
Control circuits assembly section
The section is intended to perform electrical work about assembling electric control cabinets and power cabinets. All power circuits are labeled heat-shrinkable tubing.
Quality Department
Internal service "Prism Electric" - quality control department. Provides control of compliance with the specs parts and materials delivered from suppliers. Also quality control of products, each of which is being tested in the Quality Department service and obtains passport of Compliance to design parameters. Product passport (set of design documents) is stored unlimited time in the database of the company.